The green Fleet

Weight-optimized. Environmentally friendly. Specialized.
Weight-optimized. EnvironmenOur 500 tractor units are weight-optimized and environmentally friendly in accordance with the Euro 5 and Euro 6 standards in ever-increasing numbers. They allow for full control of the supply chain through the use of Tracking & Tracing, Telematic links and GPS positioning. Our complete fleet features almost 1000 semi-trailers: Tautliner, mega trailers, trucks for dry cargo and insulated storage, special vehicles for floating glass, as well as trailers with coil troughs for steel transports.
We organize our shipments over ten of our transshipment hubs throughout Germany and Europe over the branches of the Offergeld Group in Belgium, Luxembourg, France, Great Britain, Poland and Hungary. We also utilize cooperation and system partners with their hub-based systems.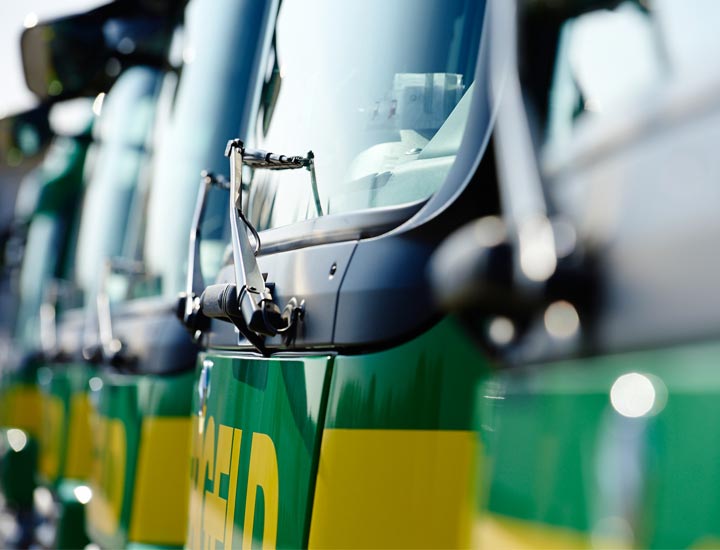 Our transport portfolio includes
Daily scheduled transports
Europe-wide partial and full load transports
Internal transportation within the framework of the production of waste disposal
Intermodal transport
Import/Export operations, customs handling
Mission feedback, Tracking & Tracing
Specialized glass transportation
The transport of dangerous goods in accordance with ADR
Route optimization and transport management for customers with their own fleet of vehicles
Die Wertschöpfung unserer Kunden treibt uns an.
Unsere Mission: Ihr unternehmerischer Erfolg.
In Deutschland zuhause. In Europa vertreten.
Ihre Logistik aus einer Hand. Unserer.
Gewachsenes Know-how für Spezialaufgaben.
Die Grundlage für individuelle Lösungen.